development
for organisations and people
the difference
Helping people and organisations to be better at what they do by providing organisational development and people development.
Bringing an ethos of "competent, caring and creative", we will work with you to produce an impactful and effective solution, customised to your needs.
competent
We make a difference, providing impactful interventions that combine high quality content with excellent learning facilitation to hone your management skills.
caring
We look out for and are there for each other, our clients and our suppliers, and we always strive to do the right thing
creative
We craft the appropriate physical, intellectual and emotional environment to deliver a unique and memorable learning experience
"I have worked with members of the dolphinblue team over a long period of time. They have provided leadership development programmes at all levels and supported the development of senior teams as well as individual Exec coaching…"
Claire Evans
Head of Talent Development & Engagement
AVEVA Group plc
what we do
We focus on the development of people and organisations. We work with you to select the building blocks that are relevant to your organisation and use our expertise and experience to shape meaningful interventions.
leadership and talent development
First, we listen. Then we shape customised programmes including leadership development, talent management and human resources development with you to deliver sustainable results.
coaching
Building supportive relationships is at the heart of our coaching approach, providing the basis for constructive challenge and making people think about the leadership qualities they would like to focus on.
team building
Team building and supporting the development of high performance in teams is our goal.
organisational development
Your internal resource: we are part of your team, working seamlessly with you to drive change and leadership effectiveness in your organisation.
facilitation
We help you define the outcomes you want and need. Using dolphinblue for expert facilitation enables you to take a full and active part in workshops rather than running them yourself.
"dolphinblue have helped our leadership team embed structure and process into our decision making that has significantly increased our efficiency and effectiveness… "
Jason McKenna
CEO
STEM Healthcare
how we do it: our core competencies
We not only customise what we do with you to meet your needs, we also tailor how we do it. Depending on the task, your preferences and appetite for the extraordinary we build our programmes based on 3 pillars:
core classics
Education and development activities with strong links to business reality, delivered with flair and competence.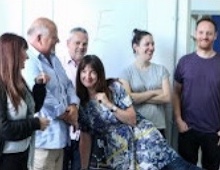 insight generation
Understanding yourself and others is key to development, so we deploy carefully chosen analytical tools.
extraordinary experiences
We create and facilitate impactful activities, inviting people out of their comfort zone to provide more insightful learning.
"dolphinblue have supported the development of tifgroup's top talent through personalised mentoring that has focused on their development needs at an individual and business level… "
Sarah Adams
Director of Operations
Tifgroup